All Perfect Finish, Post Catalyzed Conversion Varnish, Color: APF Signature V 2.0, Counter Color:Gold Dye Black Burn Thru Dull Finish.


All Rights Reserved Copyright APF 2009-2021©                                                                                                                        555 E McGlincy Lane # C, Campbell, CA 95008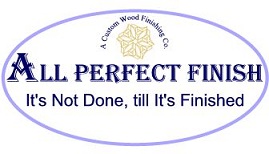 After evaluating what to do to restore our 20 year old kitchen cabinets to a like new condition (reface, refinish, or replace) we decided to have them stripped down to the bare wood and repainted.  Using Yelp as a guide, we selected All Perfect Finish to do the job.  Here in Silicon Valley it is difficult to find a Company experienced in "Old World Craftsmanship" but we found that A.P.F crew were artisans in their craft. ...

              Rey N.

                Campbell, CA


If this Video does not play automatically, please click on the links below ;